Google Translate is one kind of software provided by Google it is a great service from google.। With this service, we can change our language to another language. It's a very nice way to communicate with other countries' people. We can change our native language writing to another language.
Google day by day adds new options with google translate present they add anybody can change his language by picture. Which  Google Translate service is increased and improved. At a present maximum number of people are taking the facility from this software.
Very rare people have who don't take the facility from this option. Let's see how to work with google translate and how many languages can translate it. We will discuss its details.
How we will get Google Translate?
We can use google translate in some way. One kind of way you can use it directly is used by any browser. You write in search bare google translate then you get google translate. Another option can also take google translate software and download and install it on your computer then you can use it.
The last option is you can also use it on your mobile or tab firstly you need to go play store and take download google translate and active your mobile or tab and use it as per your need.
How does Google Translate work?
It is one kind of software that works for language transfer. When we want to transfer our mother language to another language then We will write our language and select our desired language then we will see if it translates this language.
We just need to write carefully without any mistakes because if we write mistakes then we will get a result mistake. That's why we need to input the langue without any mistakes then we will get the correct translated language.
Bengali to English
Are you Bangladeshi? If you don't know the English language or any other language don't worry. You can write English so easily by Google translate not only in English but also in so many languages you can translate your mother language to another langue. For your better understanding see the below picture which we showed for your better understanding.
Google translate English to Spanish
Some people live in Spain. Their language is Spanish. Some people doing the job out of the country and business dealing with the outer side of Spanish that's why they need to learn English but sometimes they don't know English That's time they can use it to change their language to English and English to Spanish also. You can see the below picture for your better understanding.
English to French google translate
Are you live in France? Do your mother language, French? Don't worry one piece of software can solve your all language problem. You can covert language to so many other's languages French to English or English to French .etc. English is an Internationa language that's why so many countries' languages are English. English is a more popular language at this present time.
Google translate picture
Sometimes we don't know to write our language that's time you can use this app or software for converting from image to another language. For this causes it is more popular software. At present, so many people use this purpose.
How many Languages it can Change?
This software at present adds 108 deferent countries languages add in their software. Day by day it will be increased and add new languages with this software. I think after a few years it will cover all over the world's countries' national languages. For your understanding given below list which languages are added at present with this software.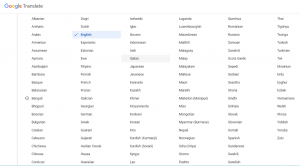 You can use this translation path click on this link. Please (Click here) for this option.
End word:
This software or app is more popular. Day by day increase this popularity. You can also take help for your transit or learn another langue. Sometimes we can change from one langue to another langue. For that's I think it is more popular its variety of facilities. It is easy to use. Any kind of people can use it. It's all future are so easy. They have no critical use.
Another Article: